Yesterday, a cool-looking map showed up on my Facebook feed, shared by a friend; it depicts the North American continent with the historical political boundaries of the native Americans. It listed clear boundaries for separate states of the First Nations: Anasazi, Apache Empire, Arawak, Aztec Empire, Beothuk Empire, Cherokee Soverignty, Cheyenne, Chickasaw, Chilcotin, Chinook, Chumash, Comanche, Cree Federation, Creek, Crow, Dogrib, Flathead, Great Sioux Nation, Haida Gwai, Hopi, Huron Supremacy, Inuit, Iroquois Confederacy, Mayan Empire, Mi'kmaq, Mohican, Navajo, Ojibwa, Olmec Kingdom, Pawnee, Pequot, Pomo, Powhatan, Salish, Shuswap, Slavey, Tlingit, and Ute.
I'd never before seen such a clear depiction of the geopolitical boundaries of pre-Columbian America, and it was a stark reminder of how we, as a people, systematically invaded and destroyed a continent of cultured peoples. We wiped away their cultures, their languages, their history, and even the memory of them, leaving only scraps behind, and we protect our current borders of land they used to live on. The American Indian Wars ended in 1924, less than a hundred years ago, but it's not even part of the American political dialog. And we've whitewashed our pogroms against Native Americans, in the same way we're presently sugar-coating slavery in history courses.
The original person who posted the picture on Facebook also included this commentary,
America before colonization…. I've never seen this map in my entire 25 years of formal education. Not in one history book or one lesson. This is not a mistake… Representation matters!!! #NativeHistory #BeforeAmerica
Well said. And others agreed… the post has over 150,000 shares as I write this!
But something smelled wrong to me about the map itself.
Terms like "Empire", "Soverignty", "Federation", "Confederacy", "Nation", "Supremacy", and "Kingdom" seemed oddly specific and out-of-place, and even seemed designed to evoke legitimacy by comparison with European state structures. Were these really accurate labels of the political systems?
The number of different Native American nations seemed far too few; was the map aggregating them in some way I'd never seen before?
The borderlines seemed too crisp; weren't many of these peoples semi-nomadic?
Glaringly, the Olmec were much earlier than the Aztec and Maya. What era was this supposed to be be representing?
And the biggest red flag… there was no source for the data, no provenance for the map, and the label was truncated.
So I dug into it, using TinEye to find the history of the image.
I couldn't find the original version of the map, or who made it, but I did find a Reddit post from 9 days ago entitled A map where Europe never discovered America. The image link was broken, but I found a more complete version that clearly shows the alternate history timestamp: "Aztec Calendar: Three Acatl (approx 2015 AD)":
We aren't taught this map, because this map isn't real.
The reality is far more complicated, fortunately or unfortunately. It doesn't lend itself to easy and obvious emotional appeals. Images and data visualizations make hard things easier to understand, and thus are extremely tempting to share.
A lot of my friends have already shared this map; they're smart, well-meaning people, and most of them are Liberals of some stripe or another. Before the week is out, this map will be shared many hundreds of thousands of times. Self-styled Right-Wingers, Conservatives, and Republicans are going to jump on this. They'll point this out as typical knee-jerk America-hating Liberals, and laugh at the fact that people who consider themselves educated and intelligent were fooled by so obvious a hoax.
Here's where these Right-Wingers are wrong: the map is incorrect, but the sentiment and the facts informing that sentiment are correct.
It's easy to laugh at someone for being undereducated if your political party systematically suppresses the correct information that they should be getting from their schools.
That said, we're all responsible for our own truths, and before you put something out there in the world, or share something someone else has said, you should do some fact-checking. If what you're saying is a matter of objective fact, rather than subjective opinion, it's more important to be correct than to be heard, otherwise you might undermine your own valid message.
But in this busy world, if you do make a mistake and spread something that you learn later was incorrect, don't be so hard on yourself… just correct the record. We make mistakes, and it's silly and mean-spirited to shame others for that, especially when their intentions are good; and worse yet, it forces people to defend themselves even if they were wrong, and doesn't reinforce self-correction. Megan, my spouse, casually shared the erroneous map, but when I pointed out the flaws, she corrected herself in her comments, frankly and openly; she didn't delete the message, she enhanced and corrected it.
This is the lesson we can carry forward from our own history as a nation: we have made mistakes, and we will continue to make mistakes, in how we treat others and how we think about our world; we need to remember these mistakes, and correct our behavior. We need to continue to make this a more perfect nation, knowing we will fail, but with good intentions.
Megan, being a conscientious map-nerd, also found a good source of a well-researched map of the true distribution of the native tribes and nations of North America, lovingly researched and rendered by Aaron Carapella:
Megan also pointed me to a great NPR radio story about Aaron's maps and the naming of tribes. You can support Aaron's work by buying his maps (currently on sale).
In the modern era, when it's so easy for information to spread, it's our social responsibility to spread factual information and to correct misinformation. It's important that our technological tools make that easier, not harder; Facebook and Twitter don't currently provide good tools for either of those tasks. For example, Facebook's "Report Photo" dialog contains only the options "It's annoying or not interesting", "I'm in this photo and I don't like it", "I think it shouldn't be on Facebook", and "It's spam"; why can't they include "It contains factual errors"? How can I politely tell someone that they have made a mistake if the tool doesn't include a way to do so?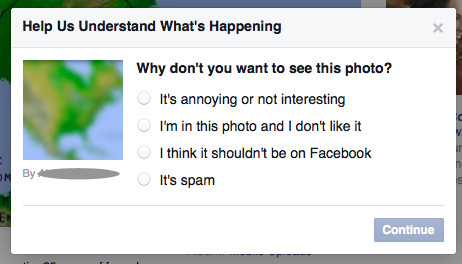 I'm hopeful that the work of the W3C Web Annotation Working Group will yield a set of technologies and conforming services that make fact-checking and accountability possible through decentralized annotation. (If this intrigues you, check out Hypothes.is, a socially-conscious annotation service you can use today).
In summary, here's a few suggestions:
Don't post stuff you haven't verified
Don't share stuff unless you've check the sources (Snopes is a good first step, or read an article on Wikipedia if you have more time)
Cite your sources
Make sure that images and data visualizations accurately reflect the facts at hand
Don't dismiss all facts and opinions just because some mistakes were made; get at the truth of the sentiment, don't just nitpick
Be suspicious when something too closely matches your own world view (i.e. beware confirmation bias)
Learn from your mistakes
Reward others for learning and growing
Don't assume you know the truth; human knowledge is always expanding
If we want a civil society in a fast-paced, hyper-connected world, we are going to need to adapt our education system, our technological tools, our social norms, and ourselves.
---
Update:
Samuel Cousins informed me on Twitter that the source of the map was a scifi and comic book writer, Joseph Abbott (aka liminalsoup), who posted the map on Reddit looking for feedback for a story they're writing. I'd guessed it was probably source material for a role-playing game campaign, so I was a bit off base.